Segmentation and targeting techniques
Q. Have our strategic approaches to segmentation and targeting been reviewed and selected?
There are many different levels in the sophistication of targeting, some of which may or may not be worthwhile depending on the value the segmentation can add. This always relates to the size of your list as well. But it's still useful to review the segmentation and targeting approach used by the top e-retailers to deliver relevance.
Typically, these are based upon five layered segmentation options used to develop a more effective targeting.
Marketing Automation Best Practices Guide Segmentation, Scoring and Life Cycle marketing form a large part of Marketing Automation functionality. Marketing automation
Best Practices Guide goes in deeper and among other answers these questions:
How can we best score our leads?
How should we nurture our leads to convert more to sale?
Which criteria should I use to select the best marketing automation vendor?
I have outlined the six segmentation and targeting approaches that you could use.
Checklist – six email targeting approaches
Customer profile characteristics. Demographics, geographics, and customer set preferences.
Customer lifecycle groups. Most commonly grouped in categories like new subscribers or prospects, active customers and lapsed or no longer engaging in an email.
Customer behavior in response and purchase (observed and predicted). This is the most powerful method, though also requires more technology to deliver it.
Customer multi-channel behavior. Targeting based on channel preference.
Customer value. The value a recipient represents at this moment and future expected
Customer personas. Personas provide a helpful way to target based on multiple dimensions. More complex methods in this area such as psychographics were created to control channel costs in direct mail and aren't used in email marketing
The wider the audience and the product or service offering and the narrower the needs and preferences the more segmentation layers and sophistication within them are needed. This is how eBay manages this:
Best Practice Tip 14 Combining and layering your segmentation can offer the best combination of all the options A layered segmentation approach summarising the segmentation approach used by eBay UK is shown below.
eBay has a huge number of different products and a diverse set of members, calling for several segmentation layers to maximize response.
This example email from eBay shows how some of the content has been targeted based on behavior, in particular purchases and items on the watch list. The watch list has the auctions a particular eBay user has selected to bookmark or watch. The closest equivalent for a brand is a wish list.
View post on imgur.com
A company with just a handful of related products will need relatively little segmentation since by definition anyone who subscribes is already targeted via self-selection. Simply choosing to sign up to such a list can by definition be enough to properly target and offer value.
There is also the possibility of wrong segmentation or, more likely, over-segmentation, in which case business performance may be reduced. Take, for example, a very tightly defined segment.
An offer may have a high take-up rate within that segment, but that is not to say that the offer would not have been taken up by a larger segment, albeit at a lower rate.
Best Practice Tip 15 Use event-triggered emails and dynamic content insertion to deliver highly relevant emails
To implement this level of email marketing a capable email marketing system that supports event-triggered marketing and dynamic content insertion is needed. Business rules are used to drop different offers and email messages into a container as described in this post alongside our mail sequence contact strategy template.
We also see eBay using triggered emails. This example shows the event that someone bids but do not win the auction. eBay sends a triggered email showing 'Buy It Now' options and more current auctions for the same item.
View post on imgur.com
Let's now review the six core targeting options available through email. Review which you use now and which would be relevant in the future.
Targeting option 1. Customer profile characteristics (demographics)
Q. Are the options for profile-based targeting used?
This is where most will start; with traditional strategic customer segmentation based on fields
of their profile that describes the type of customer and its.
For B2C e-retailers this will include age, sex, and geography. For B2B companies, this will include the size of the company, job role, and the industry sector or application they operate in. This example shows a female and male creative with the tone and style varying in line with their preferences.
Gender can very often be a good segmentation criterion, not only in the very obvious cases such as shoes but also less obvious, such as pizza. Spicy and hot for males vs. healthy eating for females.
Best Practice Tip 16 Test different targeting options Thanks to the low cost of email creative and broadcast, it can be very effective to test different targeting methods and increase the relevance of your emails for your audience as well as conversion rates.
Many B2B companies target according to the industry sector but do not also look at the job role. Different messages can be developed for people with a more strategic interest (e.g. for a senior manager the benefits of a new printer may be reduced costs, while for an IT manager it may be ease of administration or throughput).
Similarly, many B2C companies may conduct national campaigns, but with email can add a regional element – perhaps using the postcode to determine different parts of the country and then give different messages according to region or airport they will fly from (for a travel company).
The data acquisition source may also convey information for targeting. Here are a couple of examples when this is the case.
Offline data collection. A paper form based collection gives likely geography for future targeting.
Online subscribe forms. Where a sign-up form appears on multiple webpages or even on different websites, then the content of the page or site of sign-up provides an initial product or service interest.
Similarly, consider tracking the site behavior and capturing previously visited pages in their browsing session to get even more data on the new subscriber's initial interest.
Best Practice Tip 17 Consider tone and style preference Some demographics will naturally have a heightened response to a certain type of message.
Some customers may like a more rational appeal in which case a detailed email explaining the benefits of the offer may work best. Others will prefer an emotional appeal based on images and with the warmer, less formal copy.
Sophisticated companies will test for this in customers or infer it using profile characteristics and responsible behavior and then develop different creative treatments accordingly. Companies that use polls and surveys can potentially use these to infer style preferences.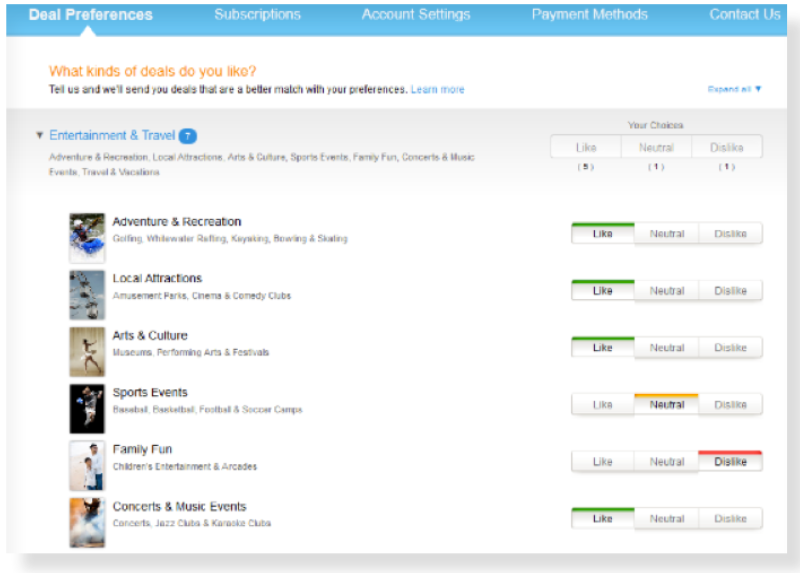 The most traditional way of gaining customer demographic and profile information for targeting is by means of a preference centre.
Since customer interests are not always so black and white, rather than tick boxes for choices. Amazon uses Like, Neutral and Dislike in this example. Note, too, how the user interface has been improved by use of pictures and headings. Providing an easy to use preference center can do a lot to improve the accuracy of completion and number of subscribers who complete it.
Where demographic information is missing one approach is to run campaigns to ask for the information. In the next example, the incentive of a birthday gift is used by Norm Thompson to get age information. Be careful with promising to give incentives on the recipient's birthday though. Some users tend to fill in a date very close (not their actual birthday) to receive the incentive sooner rather than later.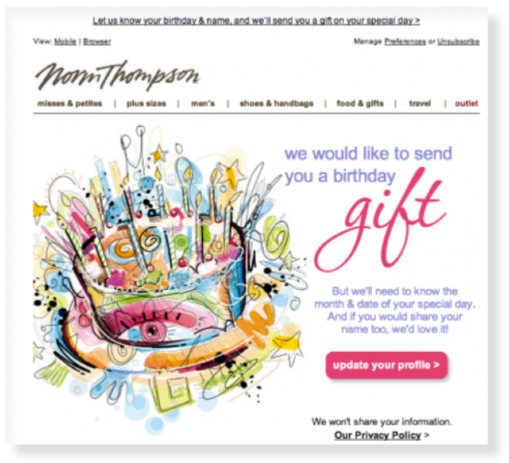 Targeting option 2. The current and predicted value
Q. Are the options for targeting based on customer value reviewed?
Marketers work hard to understand their most valuable customers so that they can develop loyalty and retain this group. A useful way of thinking about customer value is these three groups, originally identified by Peppers and Rogers:
1. Most-valuable customers (MVCs)
These are the customers who contribute the most profit and are typically a small proportion of the total customer base as suggested by their position in the pyramid. These customers will likely have purchased more or higher-value products.
The strategy for these customers focuses on retention rather than extension. In the case of a bank, personal relationship managers would be appointed for customers in this category to provide them with guidance and advice and to make sure they remain loyal.
Often this strategy will work best using direct personal contact as the primary communication channel, but using online marketing for support where the customer has a propensity to use online channels. Alternatively, if they are identified as "sleepers" (people that are unaware of their product use, as can be with subscription based products) you can try to wake them up by communicating more or choose to communicate even less.
2. Most-growable customers (MGCs)
Customers who show potential to become more valuable customers. They are profitable when assessed in terms of lifetime value, but the number of product holdings or current value is relatively low compared with the MVCs.
Strategies for these customers center on the extension, through making recommendations about relevant products based on previous purchases. Encouraging similar re-purchases could also be part of this.
Online marketing offers great opportunities to make personalized recommendations through the website and email.
3. Below-zero customers (BZCs)
Below zero customers are simply unprofitable customers. The strategy for these customers may vary – they can be encouraged to develop towards MGCs, but more typically expenditure will be minimized if it is felt that it will be difficult to change their behavior. Again, digital media can be used as a lower-cost form of marketing expenditure to encourage these customers to make repeat purchases or to allow them to self-serve online.
When considering loyalty-based segmentation, it's useful to compare current against future value, and it's best to visualize this within a matrix. Here's an example presented by Chris Poad of retail group Otto to an E-consultancy Masterclass.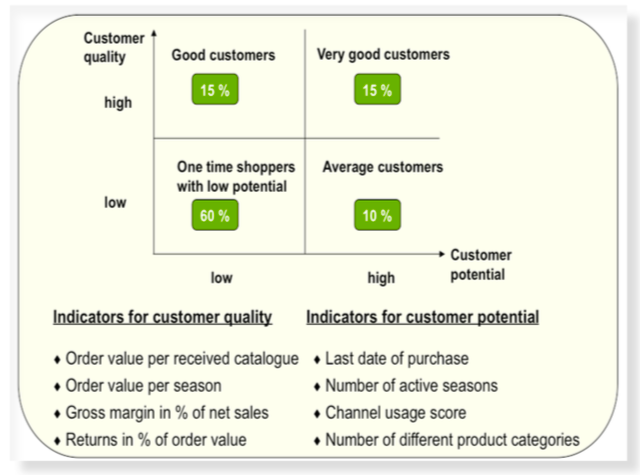 Here's a creative for a VIP mailing sent to highest value segment. ESP eCircle shared that the average performance was five times higher than the regular newsletter: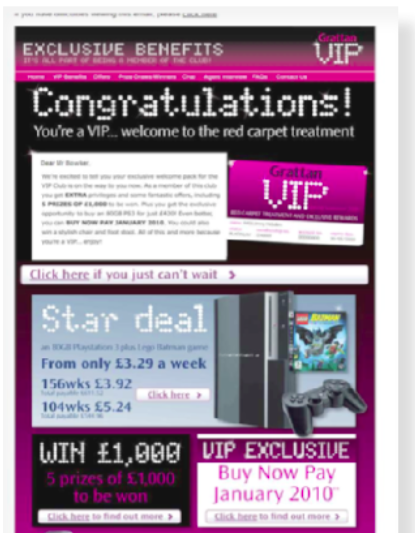 Targeting option 3. Customer lifecycle groups
Q. Are the options for targeting based on customer lifecycle or relationship used?
As visitors use online services they can potentially pass through several stages, often known as the online loyalty ladder.
Once you have defined these groups and set up the customer relationship management infrastructure to categorize customers in this way, you can then deliver targeted messages, either by personalized on-site messaging or through emails that are triggered automatically due to different rules.
Once visitors are then registered or identified by means of an email link click and resultant cookie, they can be tracked through the remaining stages. Two particularly important groups are customers with a one-time purchase versus customers who have purchased multiple times.
A customer is sometimes not considered to be loyal or repeat customer until they have purchased two to five times, in which case the single purchase segment is more akin to a warm prospect than a loyal customer.
For many e-retailers, encouraging customers to move from the first purchase to the second purchase and then onto the third purchase is a key challenge. Specific promotions like a discount for next purchase can be used to encourage further purchases. Similarly, once customers become inactive, i.e. they have not purchased for a defined period such as three months, further, follow-ups are required.
The actual period of inactivity should reflect the product or service. Holidays are purchased less frequently than shoes. Analysis of customer transactions should be used to determine the average and variation in re-purchase frequencies.
Here's an example of the lifecycle segmentation approach used by e-retailer Tesco.
com which they call a 'commitment-based segmentation' based on recency of purchase, the frequency of purchase and value. It's used to identify six lifecycle categories which are then further divided to target communications:
'Logged-on'
'Cautionary'
'Established'
'Dedicated'
'Logged-off' (the aim here is to win back).
The next example of what we think is an excellent branded welcome email from Clinique ad shown bellow :
As emails should be typically kept short there may be too much to say than possible in a single welcome email. The welcome should be made into a welcome series, providing a mix of offers, brand offer education, information about other channels, service channels, mobile apps and so forth.
The most sophisticated brands make these welcome series behavioural based. So what comes next in the series depends on what engagement, if any, occurred in the previous welcome emails, sometimes combined with their buying behaviour.
Here's a nice low-tech, but often effective email activation creative where the attempt is to win-back a lapsed customer.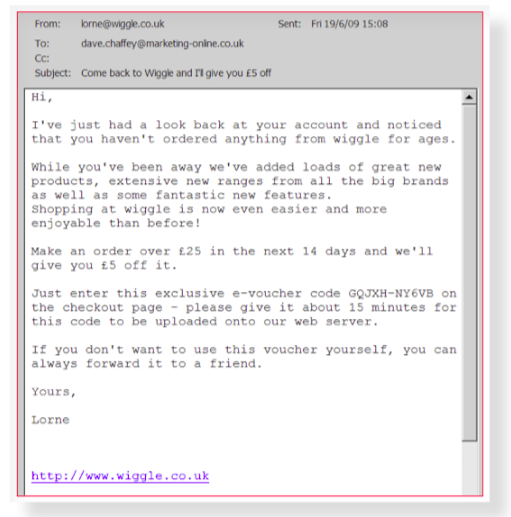 A more polished win-back example here from Audible, a subscription service targeting previous service subscribers with a coupon to get them to subscribe to the service again as example bellow: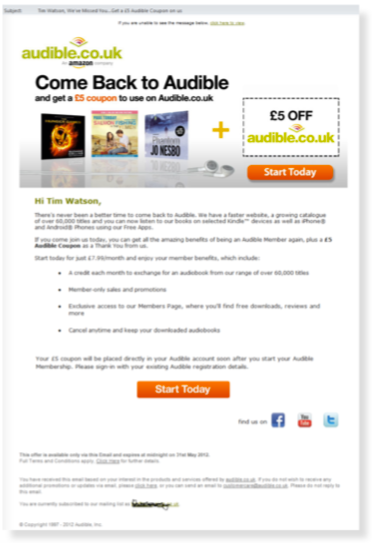 Best Practice Tip 18 Use behavioural email marketing
Rather than manually planning email campaigns, use automated event-triggered messaging to encourage continued purchase.
For example, Tesco.com has a touch strategy that includes a sequence of follow-up communications triggered after different events in the customer lifecycle.
In the example given below, communications after event 1 are intended to achieve the objective of converting a website visitor to action; communications after event 2 are intended to move the customer from a first-time purchaser to a regular purchaser and for event 3 to reactivate lapsed purchasers.
Trigger event 1: Customer first registers on site (but does not buy)
Auto-response (AR) 1: Two days after registration an email is sent offering phone assistance and £5 discount off first purchase to encourage trial.
Trigger event 2: Customer first purchases online
AR1: Immediate order confirmation.
AR2: Five days after purchase an email is sent with link to online customer satisfaction survey, asking about quality of service from driver and picker (e.g. item quality and substitutions).
AR3: Two weeks after first purchase – direct mail offering tips on how to use service and £5 discount on next purchases intended to encourage re-use of online services.
AR4: Generic monthly e-newsletter with online exclusive offers encouraging cross-selling.
AR5: Bi-weekly alert with personalised offers for customer.
AR6: After 2 months – £5 discount for next purchase.
AR7: Quarterly mailing of coupons encouraging repeat sales and cross-sales.
Trigger event 3: Customer does not purchase for an extended period
AR1: Dormancy detected – reactivation email with customer satisfaction survey (to identify any problems) and a £5 incentive.
AR2: A further discount incentive is used to encourage continued usage to shop after the first shop after a break.
The next example shows an excellent option for visualizing these types of campaigns – we suggest you create a before and after version mapping emails across the customer lifecycle. To see the full size visuals see this post on the case study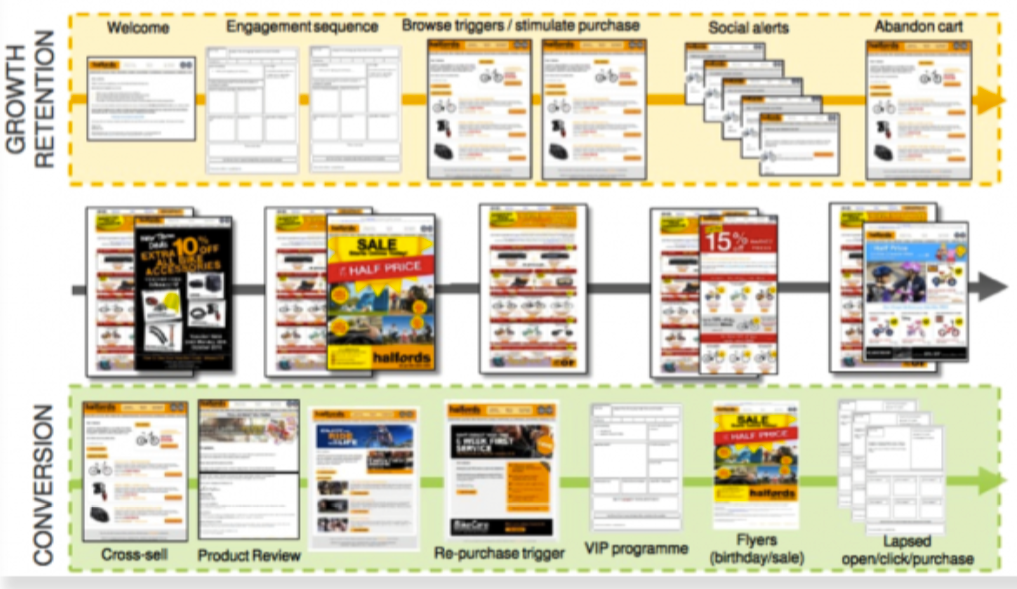 Targeting option 4. Current and predicted behavior in response and purchase
Q. Are the options for targeting based on response behaviour used?
site are captured, we'll be able to build up a detailed response and purchase history as customers progress through the lifecycle.
Browse and cart abandonment emails
A classic abandoned shopping cart email is an example of targeting based on customer behaviour. This form triggered messaging is triggered by a web visitor that places a product in the online shopping cart, but not completing the sale. By encouraging the visitor to return to their cart and finishing the process, the chance of conversion increases,
Statistics13 say that by employing abandoned shopping cart mails on average sales are increased by 8 to 10 percent. Combined with browse abandonment (based on search and browsing behavior on the site, an additional 2 to 3 percent can be achieved.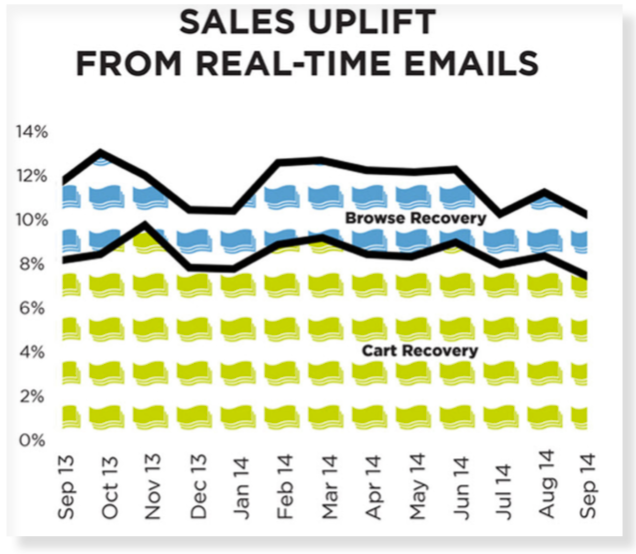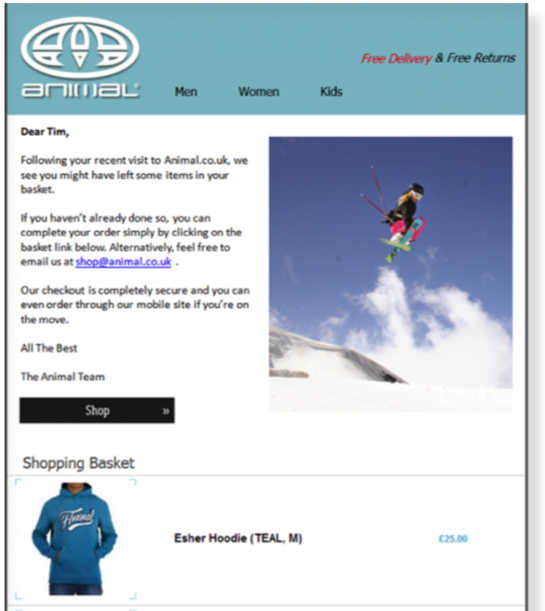 Best Practice Tip 19 Develop a scoring method to show levels of customer activity
Here each customer is scored according to their response whether it is the number of opens, clicks, leads or purchases. Different communications can then be sent to list members depending on their historical level of activity. Customers who don't seem to be responsive to online messages can be targeted through other channels such as direct mail and phone.
We advise you to take the length of the (email) relationship into consideration when analysing email activity. Epsilon suggests splitting your file into 5 activity groups which they call EASE or Email Activity Segmentation Evaluation.
The ease analysis first breaks down the email file into two categories: New and Mature. New represents addresses that have been on a marketer's file for less than three months. Mature are those addresses that have been on a marketer's file for over three months. Each category is then further segmented based on customer email activity
The New segment is broken into two categories:
Rising Stars: Subscribers who have both opened and/or clicked on an email
Question Marks: Subscribers who have been inactive for the previous three months
The Mature segment is broken into three categories:
Superstars: Subscribers who have opened or clicked within the most recent three months
Nappers: Subscribers who have opened or clicked emails more than three months ago
Dormants: Subscribers who have been inactive for the past 12 months
Rising Stars, Superstars and Nappers are considered active segments. Question Marks and Dormants are considered inactive segments.
The new segment will have other communication needs and therefore should be handled than the mature segment. This split can also give an indication of the effectiveness of your email communication during the 'honeymoon period' of the email relationship.
A more sophisticated method of understanding behaviour is to categorise customers according to the details of their recency, frequency, monetary value and category of products purchased (RFM analysis). The RFM technique is quite involved, so we will cover that in more detail in a moment.
Using these RFM techniques in combination with the other targeting techniques it becomes possible to use predictive modelling and identify the 'Next Best Product' for particular customer types. With the right system of tracking and web analytics, it should be possible to see not only which types of links in an email a customer has clicked upon, but also which types of web pages they have visited recently.
A database selection for a wine promotion could be used to target customers who have been to the wine section of the website in the last three months, but have not purchased wine.
Targeting option 5. Multi-channel behaviour (channel preference)
No matter how enthusiastic you are about online channels, some customers will prefer using online communications channels while others will prefer traditional channels.
You will want to deliver the perfect message for each customer, we call this 'Right Touching'15 – this is the holy grail of digital marketing. Just one aspect of this is determining which customers prefer email and then upweighting email activity more for them, while using more traditional communications for contacts who prefer these and at the same time reducing frequency in other channels like email and direct social media contact.
Rather than asking explicitly for channel preference Orange tested the same message sent in different channels, including email, MMS (mobile messaging service) andDM to test cells to determine the best channel to use based on return on investment (ROI). The situation was found to be complex and that whilst email was generally the better performer the type of message made a difference. Messages that require online action work better in email than DM, whereas calls to action to text to a short code or download a mobile app work fine within a DM.
Best Practice Tip 20 Use a right touching approach to channel preference
It is useful to have a flag within the database which indicates customers' channel preference and by implications, the best channel to target them by.

To deliver relevance also requires a plan specifying the number, frequency and type of online and offline communications and offers. This is a contact or touch strategy which is described in a later section.
Targeting option 6. Customer personas including psychographics
Q. Are the options for targeting based on customer personas reviewed?
Once we have reviewed and selected from the five targeting approaches above, a final step to think about is to design personas for typical customer types.
Best Practice Tip 22 Use digital customer personas
Personas are a powerful technique increasingly used to improve the usability and customer centricity of a website and other communications.

What is it? Digital customer personas Digital customer personas are a summary of the characteristics, needs, motivations and access platform preferences of different groups of users.
These have the benefit that they characterise segment types in the context of the targeting options mentioned above such as stage in lifecycle, demographics and style preferences.
We can also include psychographics which summarise the mental attitudes, motivations and opinions of customers, for example:
Impulsive or rational decision maker
Price-conscious
Risk-taker or conservative
Willingness to share information or participate socially
View they want to project of themselves.
The persona concept can also be used for e-newsletters and other forms of communication.
Personas are essentially a 'thumbnail' description of a type of person. They have been used for a long time in research for segmentation and advertising, but in recent years have also proved effective for improving website and usability design by companies who have applied the technique.
I have not heard about personas being used that much in an email context, but they can
be usefully applied, particularly for e-newsletters. The American National Football League (NFL) used personas and identified three types of scenarios – one following a particular team who wanted to check upcoming games, another who was very interested in the statistics associated with the fantasy league and another who tended to be more interested in the position in the league.
These are some guidelines and ideas on what can be included when developing a persona. The start or end point is to give each persona a name. The detailed stages are:
1. Build personal attributes into personas:
Demographic: age, gender, education, occupation and for B2B, company size, position in buying unit.
Psychographic: goals, tasks, motivation .
Webographics: web experience (months), typical usage location (home, work, while on the run), usage platform (broadband, mobile), usage frequency, favourite sites and online channels.
2. Remember that personas are only models of characteristics and environment:
Design targets.
Avoid over stereotyping.
Three or four usually suffice to improve general usability, but more needed for specific behaviours.
Choose one primary persona whom, if satisfied, means others are likely to be satisfied.
What is it? Primary persona
A primary persona is the most important persona summarising the typical characteristics, needs, motivations and preferences that will be leading in your communication efforts.
Once different personas have been developed who are representative of key site visitor types or customer types, a primary persona is sometimes identified. Wodtke (2002) says: 'Your primary persona needs to be a common user type who is both important to the business success of the product and needy from a design point of view – in other words, a beginner user or a technologically challenged one.' She also says that secondary personas can also be developed such as super-users or complete novices. Complementary personas are those that don't fit into the main categories, which display unusual behaviour. Such complementary personas help 'out-of-box thinking' and offer choices or content that may appeal to all users.
To summarise the approaches described in this section, the example of Euroffice is a good one.
Euroffice targeted email marketing case study
Euroffice (www.euroffice.co.uk) is a large online office supplies company which targets small and mid-sized companies. This description is adapted from the company website press
Releases and Revolution (2005). According to George Karibian, Euroffice CEO, 'getting the message across effectively required segmentation' to engage different people in different ways. The office supplies sector is fiercely competitive, with relatively little loyalty since company purchasers will often simply buy on price. However, targeted incentives can be used to reward or encourage buyers' loyalty.
Rather than manually developing campaigns for each segment, which is time consuming, Euroffice mainly used an automated event-based targeting approach based on the system identifying the stage at which a consumer is in the lifecycle, i.e. how many products they have purchased and the types of product within their purchase history.
Karibian calls this a 'touch marketing funnel approach', i.e. the touch strategy is determined by customer segmentation and response. Three main groups of customers are identified in the lifecycle and these are broken down further according to purchase category.
On this segmentation is a breakdown into buyer type – are they a small home-user, an operations manager at a mid-size company or a purchasing manager at a larger company? Each will have heightened response to different promotions.
The first group, at the top of the funnel and the largest are 'Group 1 Trial customers' who have made one or two purchases. For Group 1, Euroffice believes that creating impulse-buying through price-promotions is most important. These will be based on categories purchased in the past.
The second group, 'Group 2 The nursery' have made three to eight purchases. A particular issue, as with many e-retailers, is encouraging customers from the third to fourth purchase, there is a more significant drop-out at this point which the company uses marketing to control. Karibian says: 'When they get to Group 2, it's about creating frequency of purchase to ensure they don't forget you.' Euroffice sends a printed catalogue to Group 2 separately from their merchandise as a reminder about the company.
The final group, 'Group 3 Key accounts' or 'Crown Jewels' have made nine or more orders. They also tend to have a higher basket value. 'These people are the Crown Jewels and will spend an average of £135 per order compared with an average of £55 for trial customers.' They have a 90 per cent probability of re-ordering within a six-month period. For this group, tools have been developed on the site to make it easier for them to shop. The intention is that these customers find these tools helps them in making their orders and they become reliant on them, so achieving 'soft lock-in'.
Through using fields within the database to identify which segment customers belong to we can target them and then using mass customisation and personalisation to tailor offers to these customers as described in the following section.
RFM analysis
RFM analysis is potentially a powerful technique for email marketers, particularly in
transactional businesses such as catalogue retailers, knowledge.
What is it? RFM
The classic use of RFM is to analyse customer purchase behaviour typically falls into three key areas:
Recency of last purchase, e.g. three months ago.
Frequency of purchase, e.g. twice per quarter or twice per year.
Monetary value of purchase(s), e.g. average order value of £50, total annual purchase value of £5,000 .
We will see that considering just Recency and Frequency can be used by businesses of all types whether they are transactional or not.
Note that an alternative for assessing audience purchase behaviour is known as RFM or a similar equivalent FRAC, which stands for:
Frequency.
Recency.
Amount (obviously equivalent to monetary value).
Category (types of product purchased – not included within RFM).
These approaches have not been limited to retailers though, they have been a staple
approach for many years for some marketing applications such as: catalogue and mail-order companies; grocers and other retailers with loyalty schemes; charities who can track donations; and car manufacturers who can track car purchases or services through time.
With online the advent of web and email marketing, there are ma ny more opportunities for applying this behavioural customer information to use RF analysis in virtually every market. This is possible since recency and frequency can be used to understand and respond to other types of tracked transactions and interactions, for example visits or log-ins to a website or interaction with emails such as opens o r clicks. These types of interactions apply not only to e-retail sites, but also rela tionship-building websites, brand-building sites and portals.
Traditional channels such as catalogue and mail-order have particularly high channel costs which drove those companies not to develop models which are customer centric per se but in which they deliver sustainable ROI. Catalogue companies simply can't afford to send to customers with lower propensity to buy.
Best Practice Tip 23 eRFM to reduce customer marketing fatigue
The business purpose behind using the RFM model in email marketing is quite different than traditional RFM, it is not to control channel costs, because they are typically very low, but rather to analyse and avoid customer marketing fatigue.
The business purpose behind using the RFM model in email marketing is quite different
than traditional RFM, it is not to control channel costs, because they are typically very
low, but rather to analyse and avoid customer marketing fatigue.
The goal is to segment based on subscriber activity, therefore this is common called eRFM or Engagement RFM the two extremes are the active and involved email segment which have a high level of Engagement and the non-responding and inactive part, the Non-engaged.
We will now give an overview of how (e)RFM approaches can be applied in online marketing, with special reference to email marketing. Note that the major difference between eRFM and RFM is mainly in the focus on activity and engagement versus purchase behaviour. Traditional RFM is biased towards purchase activity.
Recency: Recency shows the number of days since a customer completed an action.
Jim Novo stresses the importance of recency to catalogue-style purchases when he says: 'Recency, or the number of days that have gone by since a customer completed an action (purchase, log-in, download, etc.) is the most powerful predictor of the customer repeating an action.
Recency is why you receive another catalogue from the company shortly after you make your first purchase from them.'
Online we can measure a lot more than days elapsed since last purchase. We can assess many actions that monitor the level of Engagement:
Purchase
Visit to site or particular type of content (using web analytics).
Log-on to a site (more accurate than cookies provided user ID is not shared).
Opening or clicking through on an email or e-newsletter.
Online applications of analysis include:
Monitoring through time to identify vulnerable customers.
Scoring customers to preferentially target more responsive customers for cost savings.
Out of R, F and M recency is arguably the most important of the three in email marketing.
Frequency
It refers to the number of times an action is completed in a period.
Examples are similar to those for recency, for example, but with reference to a time period:
Five purchases per year.
Five visits per month.
Five log-ins per week.
Five email opens per month, five email clicks per year.
Online applications of analysis include:
A combination with recency for RF targeting.
Adjusting email cadence and email pressure.
Event driven email via sense and respond within a certain period.
Monetary
Monetary value is the amount spent in the period. The amount could be per month, per
quarter or per year depending on the type of application. For an e-retailer, average order value would be appropriate also.
Generally, customers with higher monetary values tend to have a higher loyalty and potential future value since they have purchased more items. One example would be to exclude these customers from special promotions if their RF scores suggested they were actively purchasing.
Assessing the characteristics of these customers on the database to understand factors which may make them more valuable is often insightful. These customers could also be surveyed to find out these factors.
Frequency is often a proxy for monetary value per year since the more products purchased, the higher the overall monetary value. It is possible, then, to simplify analysis by just using recency and frequency of purchase. Monetary value can also skew the analysis for high value initial purchases.
Values could be assigned to each customer as follows:
Dividing customers into different RFM groups
The rigorous approach to RFM analysis is to use an approach which places an equal
number of customers in each quintile of 20 percent (10 deciles can also be used for larger databases). This approach is shown below.
The diagram also shows one application of RFM with a view to using communications
channels more effectively. Lower cost e-communications are used for the most loyal
customers and more expensive communications are used for the less loyal customers.
It is also possible to place each division for Recency, Frequency and Monetary value in an arbitrary position. This approach is also useful since the marketer can set thresholds of value relevant to their understanding of their customers' behaviour. For example :

Recency:
0 – Not known.
1 – Within last 12 months.
2 – Within last six months.
3 – Within last three months.
4 – Within last one month.
This could be purchase frequency or, as here, recency of a visit to the website.
Frequency:
0 – Not known.
1 – Every six months.
2 – Every three months.
3 – Every two months.
4 – Monthly.
This could be purchase frequency or, as here, visits to the website.
Monetary value:
0 – Less than £10.
1 – $ 10–50.
2 – $ 50–$100.
3 – $100–$200.
4 – More than $200.
This could be total purchase value through the year or, as here, average order value.
Another example, with real world data as is shown in the next diagram.
You can see that plotting customer numbers against recency and frequency in this way for an online company gives a great visual indication of the health of the business and groups that can be targeted to encourage greater repeat purchases.
Another example, which shows how RFM can be applied in non-retail settings shows how a theatre group uses these nine categories for its direct marketing:
Oncers (attended theatre once):
Recent oncers attended <12 months.
Rusty oncers attended >12 <36 months.
Very rusty oncers attended 36+ months.
Twicers:
Recent twicer attended <12 months.
Rusty twicer attended >12 <36 months.
Very rusty twicer attended in 36+ months.
2+ subscribers:
Current subscribers Booked 2+ events in current season.
Recent Booked 2+ last season.
Very rusty Booked 2+ more than a season ago.
This approach shows how the full RFM analysis approach doesn't have to be applied. Three or four RF groups can be sufficient to greatly improving targeting.
Most relevant to publishers and communities, is shown in the next figure where online community provider Magicalia has categorised its audience to assess the volume of members in different categories (denoted by the size of the circles).
Personalised messages are then developed for each group to encourage customers to migrate to higher recency/frequency categories.
Two extra measures of your customer behaviour that can be used to understand and set targets for retention marketing. These are latency and hurdle rate.
Latency
The average time between customer events in the customer lifecycle.
This can be applied to these events as follow:
Website visits.
Second and third purchase.
Email click-throughs.
Use of channels like mobile apps.
Online applications of latency analysis include:
Put in place triggers that alert you to behaviour outside norm – increased interest or disinterest
Manage behaviour using e-communications or traditional communications.
For example, a B2B or B2C organisation with a long interval between purchases would find that the average latency increased for a particular customer, then they may be investigating an additional purchase (their recency and frequency would likely increase also).
Emails, phone calls or direct mail could then be used to target this person with relevant offers according to what they were searching for.
Hurdle rate
A Hurdle rate refers to the percentage of customers in a group (such
as in a segment or on a list) who have completed an action. It is a very useful concept, although the terminology doesn't really describe its application. Its value is that you can compare groups or set targets to increase engagement with online channels as the examples shown on below.
Online marketing examples of hurdle rates
20 percent of customers have visited in the past four months.
Five percent of customers have made three or more purchases in a year.
60 percent of registrants have logged on in a year.
30 percent have clicked through on email in six months.
Online applications of analysis of include:
Use for objectives to deepen relationship.
Use for targeting communications on particular groups, e.g. reactivate those who are less engaged.
Use for monitoring impact of communications, i.e. how the change in (average) hurdle rates as a result of tactics.
Approach to RFM analysis does propensity modelling which is one name given to the approach of evaluating customer characteristics and behaviour, in particular previous products or services purchased, and then making recommendations for the next suitable product.
Best known to recommending the 'Next Best Product' to existing customers. A related acquisition approach is to target potential customers with similar characteristics also called lookalikes through renting direct mail or email lists or advertising online in similar locations.
Lifetime value calculations
An appreciation of lifetime value (LTV) is key to the theory and practice of marketing
and customer relationship management. However, while the term is often used loosely,
calculation of LTV is not straightforward; so many organisations do not calculate it.
Lifetime value is defined as the total your email benefit that a customer, or group of customers, Here is the the relationship with a company.
Modelling is based on estimating the income and costs associated with each customer over a period of time and then calculating the net present value in current monetary terms using a discount rate value applied over the period.
There are different degrees of sophistication in calculating LTV.
Lifetime value modelling is vital within marketing since it answers the question:
If online marketers try to answer this from a short-term perspective as is often the case, i.e. by judging it based on the profit from a single sale on an e-commerce site, there are 3 problems:
We become very focused on short-term ROI and so may not invest sufficiently to grow our business in the long term.
We assume that each new customer is worth precisely the same to us and we ignore differentials in profitability between differing types of customer.
Endless supply of potential customers, leading you to the case and work on customer loyalty is needed.
Lifetime value analysis enables email marketers to:
Plan and measure investment in customer acquisition programmes.
Identify and compare critical target segments – strategies usually involve preferentially targeting the most profitable customers and minimising communications with the least profitable customers.
Reduce the amount of communication to un-engaged customers more usefull to deliverability rather than channel costs.
Measure the effectiveness of alternative customer retention strategies.
Establish the true value of a company's customer base.
Make decisions about products and offers.
Check value of introducing or replacing CRM and marketing automation systems.
---