Q. Customer segmentation and targeting approach defined?
Digital channels offer exciting potential to target customers more closely.
For long-time marketers have talked about the nirvana of one-to-one marketing enabled by technology.
While there are opportunities for smart targeting with technology, the reality is that many communications aren't targeted at any level! Yet Relevance, Relevance, Relevance should be the mantra that underpins your online marketing. Without delivering relevant communications you're dead in the water.
In this step we recommend you target these groups of customers & grow your audience effectively.
Overall targeting approaches – strategic segmentation

Owned media targeting approaches – main audiences and web design personas
Earned media targeting options
Paid media options for targeting through different digital media channels
You can see that these targeting approaches are closely related to the next 3 steps: the propositions you offer to these segments, how you grow your reach and how you engage existing customers.
At a practical level, you can target specific audiences either through your website and other owned media like your social presence, bought or earned media, so we will look at the targeting options in each of these areas.
A. Set strategic segmentation
Q. Strategic market segments defined?
Before we dive into the tactical segmentation of how to target existing audiences better, we should look at the bigger picture of the main markets you're targeting. This is your strategic segmentation.
What is it? Strategic segmentation
A definition of the main markets and audiences you are targeting.
Define core audiences to target
Q. Core audience demographics defined.
You can't be all things to all people, you need to focus to offer a targeted proposition, so you should specify who are your core audiences. These will be likely 2-6 main audiences. Online media like ad networks give opportunities to buy media by demographic criteria, so clearly define different groups by age, gender and social groupings.
These audiences will form the web design personas we describe in the next section.
Checklist – audiences by priority
List audience by priority of volume or by value to the organisation.
______________________________
______________________________
______________________________
______________________________
______________________________
Define international audiences to target
Q. International marketing options defined
Receive visits from many different countries. But certain markets will be much more important, so you have to identify these and group them in a meaningful way such that you can tackle them. Of course, your primary market may be in your local country simply because you can only deliver products or services locally, in which case you will need to exclude all other countries in analytics unless people buy from abroad.
Best Practice Tip 10 Group international target markets in a meaningful way To help manage markets you should group them into three or four tiers according to the amount of business they generate or based on future potential, e.g. emerging markets.
Define opportunities to reach new markets and audiences
Q. Options to reach new markets and audiences reviewed?
Through reviewing strategic segmentation, you can think through the opportunities available to sell into new markets through online channels.
These could involve taking advantage of the low cost of advertising internationally without the necessity for a supporting sales infrastructure in the customer's country. For example, the Internet has helped low-cost airlines such as easyJet and Ryanair to enter new markets served by their routes cost- effectively.
This is a relatively conservative use of the Internet but is a great opportunity for SMEs to increase exports at a low cost, though it does require overcoming the barriers to exporting.
Strategy Recommendation 24 Review opportunities of digital media to target new audi- ences and new markets Don't limit your online ambitions to sell into existing markets. Instead, review opportunities to reach new audiences – either completely different to those that exist already or through micro-targeting.
There may also be opportunity to sell to new market segments or different types of customers. For example, B2B company RS Components, a supplier of a range of MRO (maintenance, repair and operations) items, found when it first launched its site that 10% of the web-based sales were to individual consumers rather than traditional business customers. It also uses the website to offer additional facilities for customers placing large orders online.
The UK retailer Argos found the opposite was true with 10% of website sales being from businesses when their traditional market was consumer-based. EasyJet also has a section of its website to serve business customers.
The Internet may offer further opportunities for selling to market sub-segments that have not been previously targeted. For example, a product sold to large businesses may also appeal to SMEs that they have previously been unable to serve because of the cost of sales via a specialist sales force.
Alternatively, a product targeted at young people could also appeal to some members of an older audience and vice versa. Many companies have found that the audience and customers of their website are quite different from their traditional audience.
Common online targeting priorities

Let's look at some examples of how we can select segments for targeting online that
are most attractive in terms of growth and profitability. These may be similar or different compared with groups targeted offline. Some examples of B2C and B2B customer segments that you should think about reaching or influencing through your site and ecosystem include:
The most profitable customers. Using the Internet to provide tailored offers to the top 20% of customers by profit may result in more repeat business and cross-sales;
Customers that are difficult to reach using other media. An insurance company looking to target younger drivers could use the web as a vehicle for this;
Customers that are brand-loyal. Services to appeal to brand loyalists and influencers can be provided to support them in their role as advocates of a brand, as suggested by Aaker and Joachimsthaler (2000);
Customers that are not brand-loyal. Conversely, incentives, promotion and a good level of service quality could be provided by the website to try and retain such customers.
Larger companies (B2B). Think about how you can reach these audiences through digital media and then how you appeal to them on your site through specific site sections or messages on a web page;
Smaller companies (B2B). Large companies are traditionally serviced through sales representatives and account managers, but smaller companies may not warrant the expense of account managers. The Internet, especially through the software-as-a-service (SaaS) model can be used to reach and serve smaller companies more cost-effectively;
Specific members of the buying unit (B2B). Again, the site can provide detailed information for different interests which supports the buying decision, for example technical documentation for users of products, information on savings from e-procurement for IS or purchasing managers, and information to establish the credibility of the company for decision makers;
As we will see at the end of this step, the digital media channels like affiliate, search and social media also give opportunities to reach to smaller segment sizes, this is micro- targeting.
Tactical segmentation methods review
Q. Does your Tactical segmentation reviewed?
The next two sections also review tactical segmentation options. Before we look at these, one other segmentation method to consider is psychographic segmentation. In plain language this is how audiences think about products and brands and how they behave through the buying process. It involves understanding their buying criteria and behaviour.
For example, laser eye treatment company Ultralase discovered that leads on their website were generated through two distinct behaviours. First some leads were generated rapidly within a day of the first visit, but another group of visitors took much longer, using a more considered approach involving many visits over a longer time period.
Don't forget that at a practical level, your options to target your email list will be based on your customer knowledge. Since we are looking to learn more through time, we need a structured approach to customer data capture. This can be achieved through a common customer profile.
What is it? Common customer profile
A definition of all the database fields that are relevant to the marketer in order to understand and target the customer with a relevant offering. It is best if different levels,1-3 of profile can be defined to encourage more customers to sign-up.
Once defined, the common customer profile can then be used as a means of
structuring e-permission marketing and refining understanding about the customer. A plan with targets for each level can be created about how to learn more about the customer.
Best Practice Tip 11 Identify key profile fields
Identify the profile fields you really need to be able to understand your audience and target them with future messages. These are level 1 or 2 of the common customer profile.
A structured approach to customer data capture is needed otherwise some data will be missed, as is the case with the utility company that collected 80,000 e-mail addresses, but forgot to ask for the postcode for geo-targeting!
The customer profile can have different levels to set targets for data quality:
Level 1 is contact details and key profile fields only
Level 2 includes preferences
Level 3 includes full purchase and response behaviour
B. Owned media targeting options
Q. Owned media targeting options reviewed?
The company website is still the main owned media option for most companies to interact with prospects and customers. It's important to think of methods of personalisation to use. But for some, such as FMCG brands social platforms are becoming more important – often their Facebook pages are larger than their website by audience and interactions. For others, mobile platforms like the mobile website and mobile apps are becoming ever more important. We'll look at each of these in this section.
Define company website targeting approach
Q. Social media platform targeting approach defined?
You can apply the approach of personas to your website social presence. You will likely find that the demographics and preferences of users of your social presences are quite different from those of your main website. There will also be differences between different social sites like Facebook, Twitter and of course LinkedIn for business users.
Best Practice Tip 12 Audit users of your social presence to create a social profile for each site
Review a sample of profiles and comments on your social media presence to understand the types of audiences and their preferences.
Targeting using email marketing
Q. Options for targeting through email house-list reviewed?
Q. Options for targeting through email house-list reviewed?
Email is most effective for marketing when using your in-house list. Your capability here for targeting will be part of your wider E-CRM strategy. But at a practical level it will depend on the fields you have available on the database for your audience and whether they have been populated.
In my 7 Steps Guide to Excellent Email Marketing, we run through 5 options for email targeting. Of these, we think the customer lifecycle and activity levels are particularly important levels of targeting to consider.
Checklist – 5 email targeting approaches
Customer profile characteristics (demographics).
Customer value (current and future).
Customer lifecycle groups.
Customer behaviour in response and purchase (observed and predicted).
Customer multi-channel behaviour (channel preference).
Customer personas including psychographics.
Best Practice Tip 13 Summarise your segmentation in a layered form
It can be useful to summarise different targeting options for colleagues through a layered segmentation as shown in this approach used by eBay UK shared at a recent email marketing conference.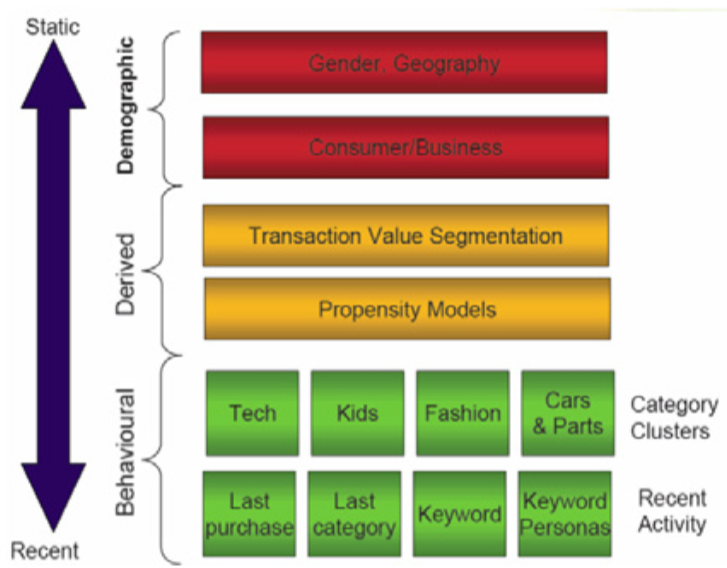 C. Paid media targeting options
Q. Paid-media audience targeting approach defined?

We will look at the paid media targeting approaches in more depth in Step 6, but for com- pleteness we have a quick review of the targeting options here.
Targeting using search marketing
Q. Search marketing targeting approach reviewed?
Of course search marketing involves both paid and owned media, the owned media being the natural search engine optimisation (SEO). But both share similar targeting options.
At a strategy level, the most important thing to get right is investing time in targeting the keyphrases that will get you the best results. Methods of keyphrase research and targeting are covered in more detail in our guides on paid and natural search marketing and a later section which reminds us that the Google Display Network (GDN) can be used for targeting on third-party sites.
Targeting using display advertising
Q. Opportunities for reaching audience through display advertising reviewed?
Although search marketing is effective at reaching visitors who have a defined need they are searching, for it is less effective for generating hidden demand through targeted ads on niche sites or reaching a mass-market audience through larger sites. Many companies don't invest in display since they can't see beyond the low clickthrough rates.
Targeting using affiliates and partners
Q. Relevance of affiliate marketing reviewed?
Marketing via partners is another method of targeting audiences using third-party sites which can complement your other traffic-building efforts. These can give new potential sources for reaching audiences that aren't aware of your brand or specific products and services. For example, retailer Tescos has good levels of brand awareness in many markets, but some offerings like their financial, diet or wine products may be less well known, so they use affiliate marketing to raise awareness of these services with higher levels of commission.
D. Earned media targeting options
Q. Earned-media audience targeting approach defined?
Reaching your audience through online public relations is another tactical method of targeting. Here we are looking to deliver a message to our audience though editorial produced by influencers such as bloggers, celebrities or online publications.
Strategy Recommendation 26 Ensure you invest sufficient in influencer outreach Segmenting and then forming relationships with relevant bloggers and content sites is a key part of influencer outreach, but it's often an under-resourced part of content marketing.